Most of our clients have names.
We're not talking about 'Bob', 'Karen', or 'Lindsey'. We're talking about the companies or organizations they work with, and the products and services they offer to the world.
For the majority of our customers, naming is not part of the creative challenge, but for some, naming the 'thing' they're about is priority one.
Why? Because when a client comes to us with an idea for an as-yet unnamed company, product, service, event, initiative, or whatever, it's really the process of giving that thing a name that's the first step toward making it real. Once that name is nailed down, the process of providing it with shape and form and feeling has a foundation to build on.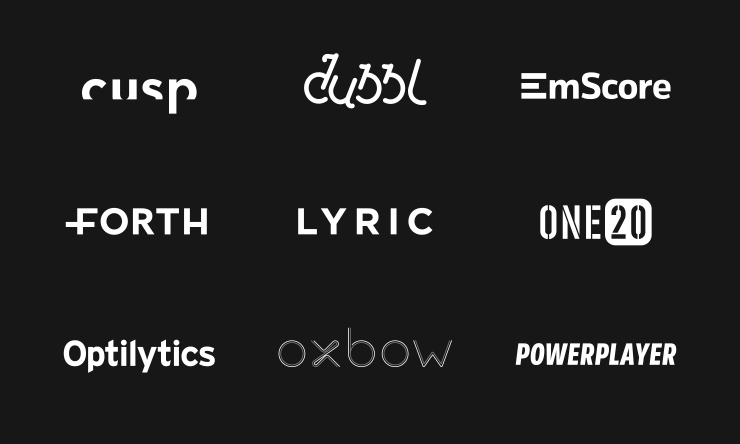 Names are difficult, because every word, every word combination, every acronym, every word-acronym combination carries weight. Names carry connotations and meanings and subtle or not so subtle emotional triggers. And because names are the things that generate that initial 'huh?' or 'ah!' or that long-term 'oh, right', they have to convey the right tones, provoke the right gut-level responses, and they have to differentiate.
The naming process itself is challenging because it's non-linear — it somehow seems to be 50% research and logic, 50% creativity, and 50% something else — and it's ultimately subject to a lot of emotion. Because let's face it, actually naming and giving life to that new product, HR initiative, or software user conference concept you may have nurtured and carried around in your mind for a few months or years can be scary. So when it comes to making that final naming decision, while it may feel safer to blend in and be kinda like others — remember middle school? — in branding and communication that's really the opposite of a good idea.
We've named a few things for ourselves, and more than a few things for our clients, including their companies, products, services, events, and initiatives.
Beyond naming, we've handled trademarking, cultural vetting, social media handle/URL acquisition, and nomenclature extension. And beyond that stuff, we've helped build compelling brand, marketing, and corporate communication that brings those names to life.
So what's in a name? Many, many things. And that's why we're Multiple.